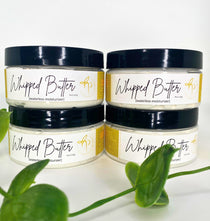 PRODUCT INFORMATION
CUSTOMER REVIEWS
PRODUCT INFORMATION
What is it?

Our Whipped Mango Butter is a lightweight body butter paired with the candy tropical scent of mango. It 
has been formulated to be ultra-absorbent and never clog your pores. We intentionally crafted our Body Butters with a butter/oil-base so your get to experience a higher percentage of plant-based oils that some creams lack.
We use a base of mango butter partnered with rich oils and butter giving a luscious after-feel.
Why does the Nuni Tribe Love it?
We love our Body butter because they are the perfect alternative to everyday lotions and creams. Because of its airiness, it's perfect for right after shower use. It won't leave a white cast and you don't have to rub long to work it into your skin. Another thing we love about our butters is how multifaceted they are, you can use them from head to toe with no issues. It works well with all skin types especially aiding those with drier skin.  
Directions:
 Apply our whipped butters generously to clean skin and massage in until absorbed. For best results, apply to damp skin directly after showering and after exfoliating.
What's in it?
Mangifera indica (Mango) Butter, Tocopherol (Vitamin E), Argania Spinosa (Argan) Oil, Cocos nucifera (Coconut) Oil, Persea Americana (Avocado) Fruit Oil
PLEASE NOTE: Our butters may melt in transit during warm climates. You still can use the butter melted or simply place it in the refrigerator to solidify, unfortunately, it will not regain its original whipped texture.
If your product returns to solid at room temperature crystallizing may occur, this only affects texture not the performance of the product. This product cannot be refunded or exchanged if it melts. 
RELATED PRODUCTS